Alexa Demie broke Sydney Sweeney's toe filming their fight in the Euphoria season 2 finale
28 February 2022, 17:27 | Updated: 9 March 2022, 15:34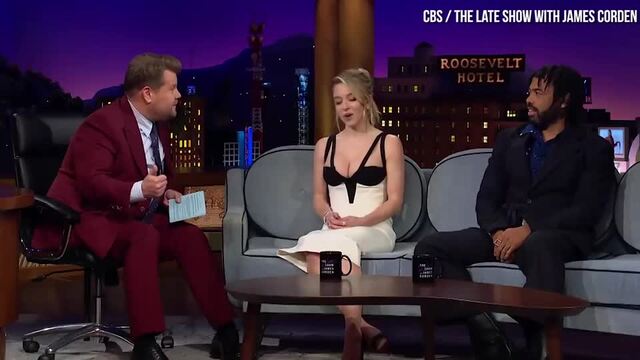 Sydney Sweeney reveals Alexa Demie broke her toe filming Euphoria
Cassie and Maddy finally came to physical blows with each other in the dramatic Euphoria season 2 finale.
Sydney Sweeney has let slip that Alexa Demie injured her while filming Cassie and Maddy's Euphoria season 2 fight scene.
Euphoria season 2 is now over and what a season it's been. The past eight episodes of the show have given us much more Fez, Cal's backstory and Emmy award-worthy performances from Zendaya and the rest of the cast. However, it's Cassie's secret relationship with Nate that really got everyone talking. Not to mention, what happened after Maddy found out.
Now, Sydney Sweeney has opened up about filming the season 2 finale and how Alexa Demie accidentally broke her toe.
READ MORE: Euphoria season 2 finale: Here's what happened to each character
In an interview on The Late Late Show with James Corden on January 27, James asked Sydney what the Euphoria season 2 wrap party was like. Sydney then explained: "Well, my toe got stepped on during filming and it just exploded. So I ended up at the E.R. and then I showed up and I was high on morphine. They were like: 'We have never seen you like this before.'"
As for how this incident happened, Sydney revealed: "In one of the episodes, a character that's very upset with Cassie right now accidentally stepped on me and broke my toe in three places." When James asked if it was Nate, Sydney said: "No." James then asked if it was Maddy, and Sydney said: "Maybe. I can't say. I know that everyone knows."
However, Sydney then confirmed that it was Alexa Demie who trod on her toe. She said: "Unfortunately and it fractured in three places. I didn't tell her. I'm so sorry Alexa. I'm okay now." In other words, it was a Cassie and Maddy scene.
Now, fans have worked out that the injury took place when Cassie and Maddy come to blows during Lexi's play. Maddy fights with Cassie after she gets on stage and says she wasn't wrong for seeing Nate behind Maddy's back.
In the scene, Maddy chases after Cassie, calls her a "c--t" and then slaps her and throws her against a wall. Pretty legendary, if you ask me.
This isn't the first time that a Euphoria star has ended up injured after filming. Barbie Ferreira sprained her ankle on set this season, Zendaya still has scars and bruises from Rue's intervention and Eric Dane left Jacob Elordi smashed up and bleeding after filming the Euphoria season 1 finale.
Here's hoping that the Euphoria cast don't get as many injuries when filming Euphoria season 3!
Read more about Euphoria here:
Too Hot To Handle Season 3 Cast Reveal Which Rules They Broke Without Being Caught By Lana