Who is Taylor Swift's Better Than Revenge about? Camilla Belle rumours and lyric change explained
7 July 2023, 11:41 | Updated: 7 July 2023, 21:01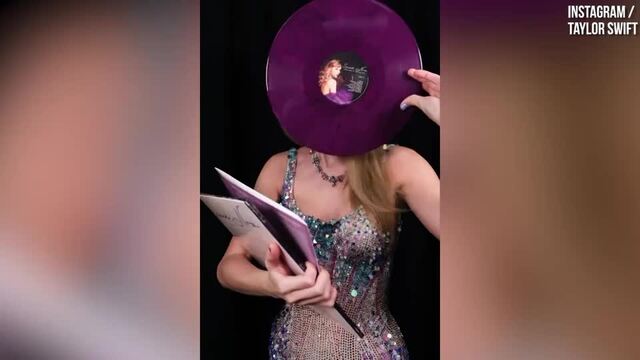 Taylor Swift teases Mine (Taylor's Version)
Who is Taylor Swift's Better Than Revenge about? Camilla Belle has long been thought to be the subject of the controversial song – and she's alluded to it in the past.
'Better Than Revenge' has long been a Swiftie favourite, but it's considered to be one of Taylor Swift's most controversial and problematic songs.
Often sat alongside Paramore's 'Misery Business' and Avril Lavigne's 'Girlfriend' in Spotify playlists titled 'Putting my feminism on hold for a sec', the track's 'slut-shamey' lyrics have been criticised since it was released in 2010.
On the track, then-teenage Taylor sings about a girl that she believes 'stole her boyfriend'. In the chorus, she belts: "She's not a saint and she's not what you think/She's an actress/She's better known for the things that she does/On the mattress."
Taylor has not performed the song live since 2012. And with Speak Now (Taylor's Version) finally here, fans have been curious to see how Taylor would handle the re-recording. Would she change the lyrics? Would she perform it as a surprise song on The Eras Tour? Would she address anything about it?
Here's a look into Taylor Swift's 'Better Than Revenge', who people think it's about, what Taylor has said about it in the past and why she has now changed those 'mattress' lyrics.
Who is Taylor Swift singing about on 'Better Than Revenge'?
In the original Speak Now album liner notes, Taylor teased that each song was "written with a specific person in mind", leading fans to begin speculating and theorising as to who she wrote 'Better Than Revenge' about. The vague, cryptic hidden message for the song in the album booklet reads: "You thought I would forget."
Taylor has never revealed, confirmed or even really hinted at who 'Better Than Revenge' was written about or inspired by.
But it's been widely speculated, based on the timing and certain references in the song, that she may have written it about her then feelings towards actress Camilla Belle.
Camilla Belle dated Joe Jonas shortly after he broke up with Taylor in 2008. She appeared in the Jonas Brothers' 'Lovebug' video.
What has Taylor Swift said about 'Better Than Revenge'?
Any present-day Swiftie will know exactly how Taylor feels about some of the songs she's written in the past. As she's frequently told fans, once released, the songs take on a life of their own and become less about her experiences and more about how fans personally perceive and relate to them.
Back in 2014 in an interview with The Guardian, Taylor seemed to distance herself from the song she wrote as an emotional, angsty teenager: "I was 18 when I wrote that. That's the age you are when you think someone can actually take your boyfriend. Then you grow up and realise no one can take someone from you if they don't want to leave."
More recently, at the Eras Tour, Taylor also issued a friendly warning to her fans to lead with kindness when Speak Now (Taylor's Version) is released.
"I'm 33 years old. I don't care about anything that happened to me when I was 19, except the songs I wrote and the memories we made together," Taylor told the crowd. "So what I'm trying to tell you, is that I'm not putting this album out so you should feel the need to defend me on the internet against someone you think I might have written a song about 14 million years ago. I do not care, we have all grown up. We're good."
While she was speaking about 'Dear John' specifically, it's clear that her sentiments extended to other songs on the album, including 'Better Than Revenge'.
In the new prologue for Speak Now (Taylor's Version), Taylor does not mention 'Better Than Revenge' by name but she does allude to certain tracks on the original album being "emotional revelations [that] were surprising to people" at the time.
She added: "It was an album that was the most precious to me because of its vast extremes. It was unfiltered and potent."
What has Camilla Belle said about 'Better Than Revenge'?
Despite Taylor having never revealed anything about the subject of the song, Camilla herself has previously alluded to the ongoing speculation that the song was written about her.
Back in 2015, Taylor got caught up in a Twitter beef with Nicki Minaj over VMA nominations and the lack of female nominees. Taylor was nominated for the 'Bad Blood' music video that year. Despite not mentioning Taylor by name, Taylor responded to Nicki's call out, writing: "I've done nothing but love & support you. It's unlike you to pit women against each other. Maybe one of the men took your slot."
The two cleared the air, but Katy Perry then waded in, questioning why Taylor was bringing up the "pit women against other women argument" while 'Bad Blood', which was widely rumoured to be about Taylor and Katy's feud, was part of the conversation.
Camilla later responded to Katy's tweet, appearing to allude to the problematic subject matter of 'Better Than Revenge'. Camilla wrote: "Couldn't have said it better..."
Why did Taylor Swift change the lyrics to 'Better Than Revenge'?
'Better Than Revenge' is the first Taylor's Version re-record that she's made a significant lyrical change to.
In the new version, the "She's better known for the things that she does/On the mattress" lyric has been replaced and updated with the line: "He was a moth to the flame, she was holding the matches."
Taylor has not yet explained why she decided to change the lyrics to the song, but it's possible that she'll address it at some point. Maybe even if/when she plays it as a surprise song on The Eras Tour.
The Witcher Cast Interview Each Other | PopBuzz Meets