Taylor Swift Spotify Top 5: How to find your 'By Listens' Top 5 albums
26 July 2023, 21:32 | Updated: 26 July 2023, 21:35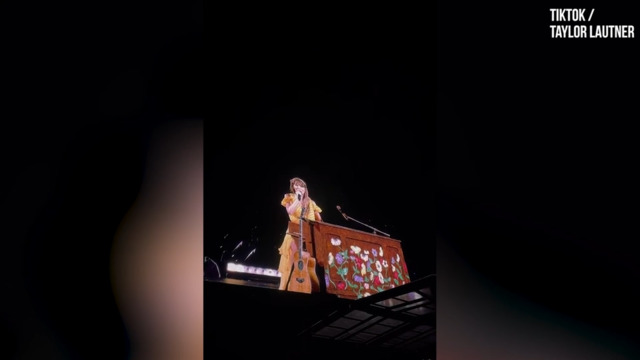 Taylor Lautner takes fans to The Eras Tour in TikTok video
Here's how to find your 'By Listens' Top 5 list from Spotify's My Top 5 Taylor Swift Eras feature.
Spotify have just launched the My Top 5: Taylor Swift's Eras feature that lets Swifties select and predict what their top 5 Taylor Swift albums/eras are, before revealing the real answer based on their listening habits.
The feature is basically a tiny little Taylor Swift-themed Wrapped that gives listeners an insight into which Taylor era they've connected to the most. Whether you've been streaming the latest releases like Midnights or Speak Now (Taylor's Version), or you've still living your Folklore fantasies, the feature will reveal all.
You can access My Top 5: Taylor Swift's Eras at Spotify.com/top5 on your mobile device. However, some fans are having trouble finding their 'By Listens' report. Here's how to access that and find out which five Taylor Swift albums you've listened to the most.
READ MORE: Every surprise song performed on Taylor Swift's Eras Tour so far
How to find your Taylor Swift Top 5 'By Listens' on Spotify
The key to unlocking your Taylor Swift album listening statistics is to find the feature within the Spotify app instead of through the website.
If you completely close your Spotify app, make sure it's up-to-date and then reopen it, you should get a pop up on your homepage telling you you're in the top percent of Taylor Swift listeners on Spotify.
From there, you just need to follow these next few steps:
Tap the arrow on the first page.
Manually select your Top 5 favourite Taylor Swift albums, or the five that you think that you listen to the most.
Once all five are selected, tap 'Next'.
You can then re-order your fave albums based on how you think they'd rank based on your listening history.
Tap 'Lock It In' and the feature will give you a cute graphic to screenshot and share.
Then, if you've accessed the feature through the Spotify app, tap 'Next'.
The app will then automatically show you your Top 5 Taylor Swift albums by listens.
Here's where you can compare whether your own selections match up with your listening habits. For those of us who simply cannot and will not stop streaming 'Cruel Summer', Lover really seems to be sneaking in and claiming that top spot!
Unfortunately, the Top 5 feature doesn't reveal exactly which Taylor Swift songs are your most played, but there's plenty of other ways to find that out.
You can either keep streaming and wait for Spotify Wrapped 2023 to drop with your Most Played songs at the end of the year, or you can use Stats For Spotify to find out which songs you've played the most over the past four weeks, six months and all-time.
Read more Taylor Swift news here:
The Witcher Cast Interview Each Other | PopBuzz Meets